In Memory
Anne Viney (Broyles)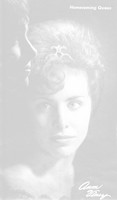 Broyles, Anne Elizabeth, age 67, passed away on Nov. 12, 2012. Daughter of Howard E. and Jean E. Viney, Annie left behind her husband of 19 years, Robert E. Broyles; daughter Julie Moseley; friends Trudy, Pat (Marshall), Caren, Deb, Mary and Barb; and dogs Sassy, Nia, Cody and Hope. She is survived by stepsons Brad, Scott and Randy Moseley, Robin, Rande and Richard Broyles. Her passions were family, dogs, friends, shopping, walking, and wine in any order. Most recently a home-maker, her life's work included nutritionist, jazzercise instructor, travel director, and fabulous Mom and Grandmother. Annie was never at a loss for words, never missed an opportunity to meet someone new, and never forgot a name. Her beautiful smile lit up every room; she brought joy, hope, laughter and love to everyone. She will be missed by all who knew her.
I Did Not Die
Do not stand at my grave and weep,
I am not there; I do not sleep,
I am a thousand winds that blow,
I am the diamond glints on snow,
I am the sun on ripened grain,
I am the gentle autumn rain,
When you awaken in the morning's hush
I am the swift uplifting rush
Of quiet birds in circling flight.
I am the soft star-shine at night.
Do not stand at my grave and cry,
I am not there; I did not die.
In Loving Memory
Anne Broyles
Nov. 10, 1945 -- Nov 12, 2012